2022 Early On Pre-Conference
Date:
November 15, 2022
Location:
Grand Traverse Resort
100 Grand Traverse Village Boulevard
Acme, MI 49610
100 Grand Traverse Village Boulevard
Acme, MI 49610
Time:
Registration begins at 7:30 AM
Training is from 9:00 AM to 3:30 PM
Continental Breakfast will be served.
Lunch will be served.
Cost:
$100.00
Details: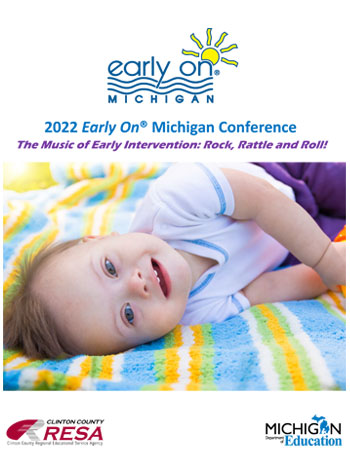 The full day Early On Michigan Pre-Conference sessions offer participants an opportunity to dig deeper into topics such as staff wellbeing, early intervention practice, equity in early intervention, secondary trauma, and parent-child interactions.
Pre-Conference Rates:
By October 7: $100.00; Student/LICC Parent: $50.00
After October 7: $130.00; Student/LICC Parent: $50.00
Applying for Discounted Rates:
Full-time Students who wish to attend and receive the discounted rate must provide documentation on university letterhead indicating their enrollment at the college or university.
Local Interagency Coordinating Council (LICC) parents who wish to attend and receive the discounted rate must provide documentation on ISD/agency letterhead indicating their current involvement as an LICC parent.
Attendees traveling more than 300 miles, one-way, to attend the pre-conference and/or conference are eligible for the discounted rate of half off the pre-conference and/or conference rates.
Please email requests for discounted rates and documentation to Tina Schmidt at cschmidt@ccresa.org or fax it to (517)668-0446.
Accessibility Accommodations
Persons needing accommodations for effective participation in the conference should contact CCRESA OIP at (866) 334-5437 at least two (2) weeks in advance to request mobility, visual, hearing, and other assistance. Individuals may also indicate these needs in their online registration form.
Hotel Update
Grand Traverse Resort is sold out. We have arranged special pricing with two additional hotels.
Sleep Inn
$79.00 single or double. Using their online system to book directly https://www.choicehotels.com/reservations/groups/HD13S2 or call (231)938-7000 and mention the Early On Conference.
Holiday Inn Express & Suites
$116.06. 3536 Mt Hope Rd. Williamsburg, MI 49690 please call (231)938-2600.
Registration Requirements
Please be sure to choose a workshop for every session for each day that you plan to attend the conference. If you do not choose a session, then you will be randomly assigned to a session.
Agenda:
Register:
All professional learning through this website requires you to be a Subscriber to register. Current subscribers, please sign in before you register. Subscriber benefits include:
Notification of new trainings
One-click registration for future training
Tracking of your professional learning
Storage of your SCECH PIC number for use in future training
If you are not yet a Subscriber, then please sign up for free by clicking the "Become a Subscriber" button below. You will be returned to this page to register.